Dry Eye Syndrome
Find relief from dry, itchy, irritated eyes.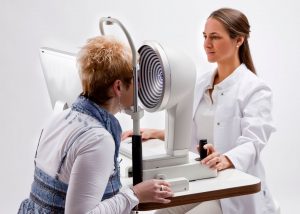 Dry eye syndrome refers to a breakdown in the quantity or quality of tears to moisten, cleanse and protect the eyes. This is significant because, with each blink, tears protect the surface of the eye, washing away dust and microorganisms. When this protective coating dries up, the eyes may feel "gritty" or burn and can be more sensitive to light. In extreme cases, vision can be blurred.
Our office utilizes an advanced technology called the OCULUS Keratograph® 5M. By more accurately diagnosing the Dry Eye Syndrome and documenting the findings, your eye doctor can plan a better treatment, if necessary.
If you suspect that you have dry eye, see your eye doctor. Proper care will not only increase your comfort – it will protect your eyes. Your eye care provider can perform a series of tests to determine if you have dry eyes.
Causes of Dry Eye
Aging: As we age, tear production decreases. Men and women of any age can be affected. However, after menopause and during pregnancy, women are especially susceptible.
Contact Lenses: Wearing contact lenses often increases tear evaporation. This can result in irritation, increased protein deposits, infection, and pain. Dry eye has been shown to be the leading cause of contact lens discomfort.
Medications:A variety of common medications reduce tear secretion. These include decongestants, antihistamines, diuretics, beta-blockers, sleeping pills, antidepressants, pain relievers, and alcohol.
Environment:Occasional or continual exposure to various environments can reduce eye lubrication. These include sunny, dry or windy conditions; areas with heaters, dehumidifiers, fans or air conditioners; work settings (i.e.; areas with chemicals or hair dryers), high altitudes, smoke or air pollution and sand, dust or airborne pollen.
Auto Immune Disease:Diseases such as Rheumatoid Arthritis, Rosacea, Lupus and Sjogren's syndrome can cause Dry Eye.
If you experience any of the symptoms below, you may have Dry Eye!
Dry Sensation
Scratchy, Gritty Feeling
Burning/Stinging
Itching
Excess Tearing (watery eyes)
Mucous Discharge
Irritation from Wind or Smoke
Redness
Tired Eyes
Light Sensitivity
Contact Lens Discomfort
Contact Lens Solution Sensitivity
Soreness
Lid Infections / Sties
Sensitivity to Artificial Tears
Eyelids Stuck Together at Awakening
At Envision Eye Care – Pittsburgh, we provide various treatment options, including
Lid treatments such as punctual plugs and lid scrapings
Artificial tears
Warm compresses
Ocular Supplements
Prescription Medications
Envision Eye Care – Pittsburgh has the experience and equipment necessary to diagnose and often treat the eye diseases detailed above, as well as many other eye diseases, at our office in Pittsburgh. For more information please schedule an appointment with your optometrist, and we'll be in touch with you shortly.